Back in MD & The Weekly Chase
I really need to stop doing this thing where I move once a year – it's getting to be a real hassle! I'm sore, tired, and overall, just very glad it's over. And I keep asking myself, where did I get all this stuff??
It was a long drive home with a quick and dirty unpacking of the truck, but now, I'm officially a Marylander again! Bring on the steamed crabs and sweet corn!
I've already been super busy since I've been back, having just had my first job interview in the city today. I'll hear about that later this week, but now it's all beginning to slow down. My parents, who so lovingly and understandingly took me in during my transition, have their own schedules to keep so now I'm all about getting back into the swing of things. I need to get out and start exploring the various places to run, and to really make a place for myself here.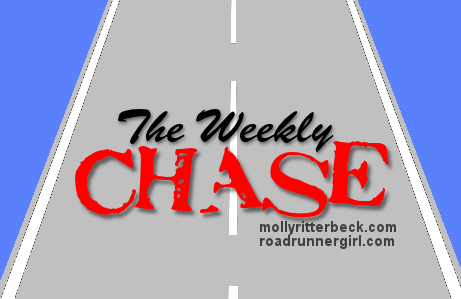 The Weekly Chase is hosted by Molly & Mindy.
Last Week's Goals:
1. Get ready to leave work. Check – all done at the OEC. I already miss it!

2. Pack. Check – Packed, moved, and unpacked! Hellooo Maryland!
3. Start a new book. Sort of? I got about three pages in to a new book. It's sitting on my desk but now that I have my full library again, I might pick up something else.
4. Say goodbyes. Check – I already miss my Ohio friends
5. Eat all of the food in my house. Check! I hardly had to move any food! But I did leave three eggs for my roommate
This Week's Goals:
1. Get a job. This is an on-going goal. Maybe it will happen right away, maybe it won't. Ahh, the job hunt – always an interesting experience.

2. Organize and store my stuff. Right now my parents have two couches sitting in their living room, and one in their dining room, and tons of boxes scattered about. I have a feeling they aren't going to want those sitting there until I move again.

3. Get back on a running schedule. I have races coming up in a few months and I'm ready to start training. No more big move to use an excuse not to get out there! (And I finally did my laundry so I have running clothes again – yay!)
4. Buy new running shoes. I have decided that the shoes I have now are just not working. I think I got a bad pair or something – just walking around in them really hurts the arch of my foot and that's probably not a good sign. Plus, yay – new shoes!

5. Establish a routine. Unemployment can be sort of crazy, especially if I start to let myself get sluggish and unmotivated. I want to make sure I'm still blogging, reading and writing since right now, I have nothing but free time.

—
What are your goals this week?
Any suggestions for a new running shoe?
—
Want even more? Follow Medium Roast on Facebook & Twitter!